Gustav Meier
A Personal Tribute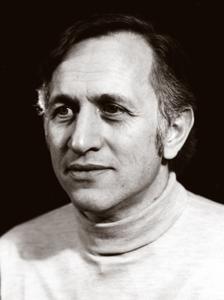 Many of you expressed a deep sense of loss one year ago when podium pedagogue and conductor Gustav Meier passed away. It was a great loss for many of us who were close to him, particularly my family and musical friends.

"Gusti", as most people referred to him, was a tireless proponent of the podium world, especially to the devoted students that he encouraged over the many years at Yale, Tanglewood, Eastman, Michigan and Peabody. His orchestras, including the Greater Bridgeport and Lansing Symphonies, were also the recipient of his devotion to the composer and his musicians. The orchestral players in his professional orchestras and university just adored him, his style of conducting and teaching, and his charming smile! He devoted time to answer their questions and guide them through their musical paths. His conducting students always gave the air of a deity about him, as if he was a sort of guru or master. He truly was the definition of the "maestro" without really acting like one.

As I carved my way through the piano world, I rarely met such a person of strength, character and devotion as Gustav. He completely changed my life at a time of great stress and change. When he truly believed in someone, he really backed up his words with actions. As I said before, he was a great promulgator, and with that came a degree of sober advice and enlightenment. His symphonic performances would move you to great heights of appreciation through the score itself. Most notable for me were his interpretations of the Sibelius 1st Symphony and the Bartok Concerto for Orchestra, where his detailed and sweeping style gave the pieces a new meaning and place in the repertoire.
Gustav also had a sort of cynical side to his character which drove me mad at times, but now I see the genius of it. He would give the appearance of the Swiss Watch but he never was! He was a very committed person in every way, even though at times he seemed non-committal. On the personal level, he excelled as a husband, father, grandfather, father-in-law and friend. The children just loved him! He dealt with any family issues in a very noble way and seemed to enjoy serving the ones around him. He was a giver not a taker.

Gustav leaves an inestimably large hole in the lives of those he touched and will be missed forever.
Jack Price (Dickran Atamian)
Associated Links:

Tribute to Gustav Meier in Fairfield, CT
Remembering Gustav Meier's 41 seasons

Renowned Conducting Teacher Has Died

Conductor, longtime Peabody faculty member Gustav Meier dies at 86

Conductor and Faculty Member Gustav Meier Passed Away May 26, 2016

Obituary

Wikipedia