Ukraine Train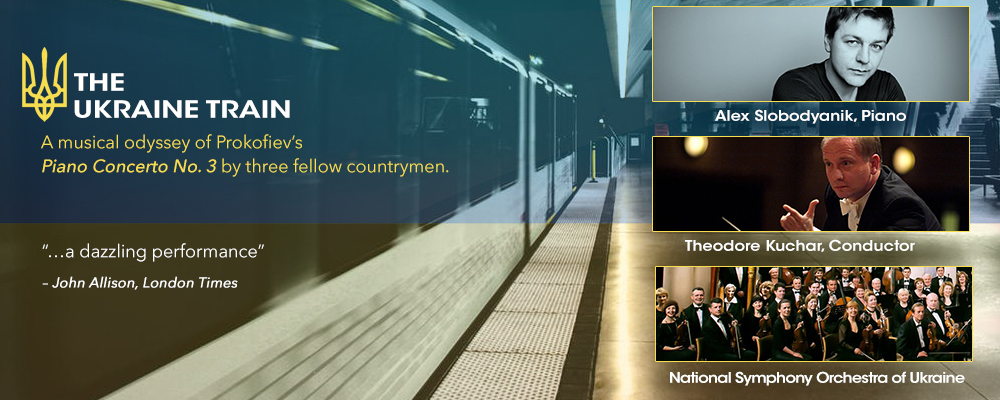 Politics Aside... Presenting the Ukraine Train.
A Musical Odyssey of Prokofiev by 3 Fellow Countryman.
Hop aboard as acclaimed Pianist Alex Sacha Slobodyanik Returns to the Stage in California Arcata, CA (March 2017) -- Price Rubin artist and world-renowned pianist Alex Slobodyanik scheduled to perform Prokofiev's Piano Concerto No. 3 in C Major, Op. 26, at three California concert venues with the National Symphony Orchestra of Ukraine led by conductor Theodore Kuchar.
Price Rubin artist Alex Slobodyanik, a revered piano virtuoso, is scheduled to perform on Monday, March 20, at 7 p.m. in Arcata, CA, at Humboldt State University's Van Duzer Theatre, 1 Harpst Street. Slobodyanik, who walked away from the music world to pursue filmmaking, will be performing Prokofiev's Piano Concerto No. 3 in C Major, Op. 26, conducted by fellow Price Rubin artist Theodore Kuchar, the most recorded conductor of his generation.
"This is a rare opportunity to see these artists work together," said Jack Price, founder of Price Rubin & Partners and concert pianist formerly known as Dickran Atamian. "This also marks Alex's long-awaited return to the stage in a major U.S. venue setting."
Slobodyanik and Kuchar will also be on stage on Wednesday, March 22, at 8 p.m. at the Renée and Henry Segerstrom Concert Hall, 600 Town Center Drive, Costa Mesa, CA, and Sunday, March 26, at 3 p.m. at the University of California Berkeley's Zellerbach Hall, corner of Bancroft Way and Telegraph Avenue. They will be performing the same Prokofiev concerto at both venues. All three engagements are part of the U.S. tour (managed by CAMI) of Grammy-nominated Price Rubin artists the National Symphony Orchestra of Ukraine.
Alex, also known as Sacha Slobodyanik, has been featured in numerous films and shows. Most recently, he joined the cast of Emmy-nominated "The Americans," a show about two Soviet intelligence agents posing as a married couple to spy on the American government, starring Keri Russell and Matthew Rhys. His directorial debut is a documentary feature called "Buratino-15," due out this spring.
Alex has appeared at New York's Carnegie Hall and the Lincoln Center, Barbican and Royal Festival Halls in London, Concertgebouw in Amsterdam, UNESCO Hall in Paris, the Great Hall in Moscow, Suntory Hall in Tokyo and a host of other major venues throughout the United States and Europe. Orchestra appearances included the Chicago Symphony, National Symphony, The Philharmonia Orchestra, and The Kirov orchestra under Valeri Gergiev.