Artist Management
Price Rubin Premium Management
Highly Personalized Targeted Marketing to Industry Decision-Makers who Book Talent

More than just traditional concert management, Premium Management delivers targeted direct marketing to concert presenters, opera companies, and other performing arts organizations who engage concert artists.
Price Rubin's marketing staff connects to presenters who book talent worldwide each month delivering highly-individualized targeted marketing that focuses on getting much-needed consideration from presenters. When interest is expressed our managers take over the lead and work to establish a relationship between the presenter and artist. Contracting is provided by our management staff.
Each Premium Management client receives a detailed marketing report at the end of each month's campaign. The report delivers critical information on where each client has been marketed, materials that have been sent out, the details of our conversation with decision-makers along with feedback, and the level of interest expressed.
See a sample report (click below)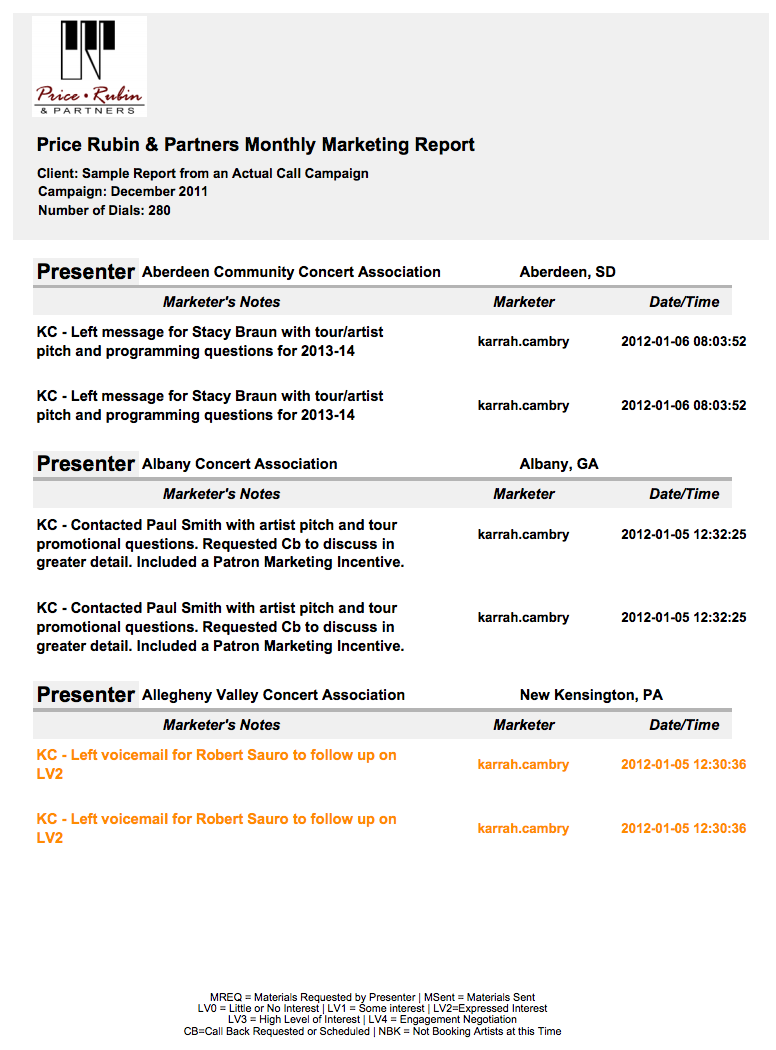 Our artists receive high-quality, exceptional print media materials that are designed to make an immediate impact. Our "sizzle" emailer is designed by our graphic artist and features links to video, audio, and the artist's listing on the Price Rubin website.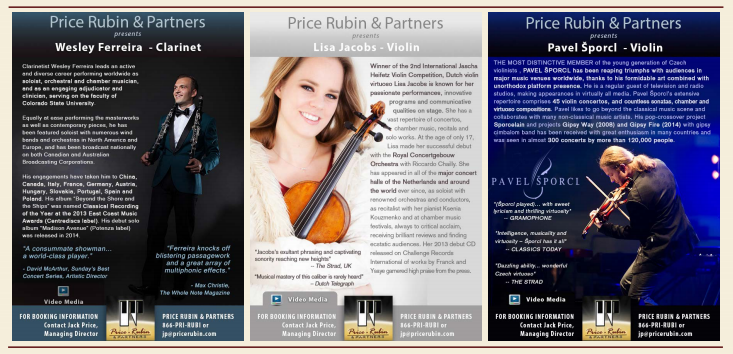 Premium Management is offered to qualified credentialed artists by invitation only and may not be right for every artist. Results do vary depending on type of campaign, marketability of each artist and market conditions.
Price Rubin offers Premium Management, a direct-marketing service that provides 2-14 hours a month of direct marketing to the Concert Music Industry. Each month our premium management provides you with a report on every call, email, action and feedback from presenters along with detailed conversations with auspices and performing arts organizations you have been presented to. We will design a press kit, sizzle one-sheets, and include you on the Price Rubin & Partners website.
We offer 5 monthly plans: 2 hours at $100; 5 hours at $200; 8 hours at $300; 11 hours at $400; 14 hours at $500
Emerging Artist Plan - $100/month
2 hours of marketing phone calls per month
Featured Web Listing at PriceRubin.com
24/7 online real-time call reporting
2 30-minute Career Consulting Calls with Jack Price per Year.
PDF Press Kit Dossier

Professional Plan - $200/month
5 hours of marketing phone calls per month
Featured Web Listing at PriceRubin.com
24/7 online real-time call reporting
3 30-minute Career Consulting Calls with Jack Price per Year.
PDF Press Kit Dossier

Premium Plan - $300/month
8 hours of marketing phone calls per month
Featured Web Listing at PriceRubin.com
24/7 online real-time call reporting
4 30-minute Career Consulting Calls with Jack Price per Year.
PDF Press Kit Dossier
Sizzle Artwork Provided

Master Artist Plan - $400/month
11 hours of marketing phone calls per month
Featured Web Listing at PriceRubin.com
24/7 online real-time call reporting
4 30-minute Career Consulting Calls with Jack Price per Year.
PDF Press Kit Dossier
Sizzle Artwork Provided
HTML Email Sizzle Coded Provided for Email Use
Included on Website FeaturedArtist Banner

Virtuoso Plan - $500/month
14 hours of marketing phone calls per month
Featured Web Listing at PriceRubin.com
24/7 online real-time call reporting
4 45-minute Career Consulting Calls with Jack Price per Year.
PDF Press Kit Dossier
Sizzle Artwork Provided
HTML Email Sizzle Coded Provided for Email Use
Included on Website FeaturedArtist Banner
Promotion on PRP Social Media
Featured in 1 PRP Newsletter Article Per Year
For more information call Jack Price at (PRI) CER-UBIN or email to jp@pricerubin.com